Heart Disease
-Any disease or condition that affects
or damages the heart or blood
vessels
– Sometimes doctors or other health
care professionals use the word
"cardiovascular" to describe a
number of diseases and conditions
that affect the heart
What causes Heart Disease?
High blood pressure
High blood cholesterol
Diabetes
Tobacco use
Unhealthy diet
Physical inactivity
Overweight
Drinking too much alcohol
Stress
Age
A previous heart attack or stroke
Warning signs of a heart attack: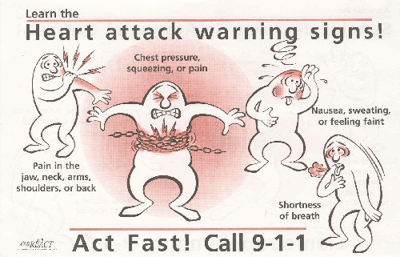 ➤ Pain or discomfort in the jaw, neck,
or back.
➤ Feeling weak, light-headed, or faint.
➤ Chest pain or discomfort.
➤ Pain or discomfort in arms or
shoulder.
➤ Shortness of breath.
Treatments for Heart Attack
➤ Coronary angioplasty and stenting: This
procedure opens blocked coronary arteries
allowing the blood to flow more freely to the
heart.
➤ Coronary artery bypass surgery: In this
procedure a graft is created to bypass
blocked coronary arteries using a vessel
from another part of the body.
CAUSES OF HEART FAILURE
Narrow or blocked blood vessels near the heart.
Heart attack.
Damaged or infected heart valves.
Defects of the heart from birth.
Serious lung infection.
High blood pressure or diabetes.
Thyroid problems.
Sleep apnea.
WARNING SIGNS OF HEART FAILURE
Swelling of the feet, ankles, legs, and abdomen
➤ Pain in the abdomen.
➤ Sudden weight gain
➤ Shortness of breath when you are active, and while resting, and
sleeping.
➤ Trouble sleeping
➤ Weakness or tiring very easily.
➤ Confusion or can't think clearly.
➤ Repeated, dry cough, especially when they are lying down.
➤ Coughing or wheezing when active.
➤ Cough up pink or bloody mucus.
➤ Lack of appetite or nausea.
TREATMENTS FOR HEART FAILURE
Follow a low-sodium and low-fat eating plan.
➤ Get regular, mild physical activity.
➤ Stop smoking.
➤ If overweight, lose weight.
➤ Avoid drinking alcohol.
➤ Manage stress.
➤ Avoid wearing tight socks and stocking that
could cause blood clots.
RISK FACTORS FOR AFIB
➤ Heart failure.
➤ High blood pressure.
➤ Diabetes.
➤ Heart attack.
➤ Coronary artery disease.
Signs of AFIB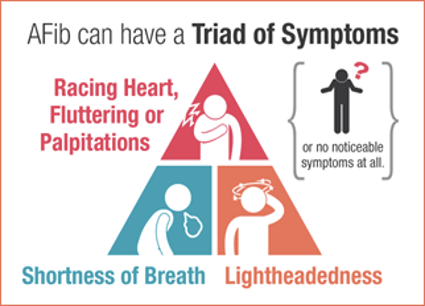 A racing or irregular heartbeat.
Chest discomfort or pain, or
palpitations — a " flopping" sensation
in the chest.
Lightheadedness or dizziness.
Extreme tiredness.
Shortness of breath.
Find out if you have Atrial Fibrillation – a type of irregular heartbeat. If left untreated, AF can increase stroke risk four to six times.
If you smoke, stop. Smoking doubles stroke risk.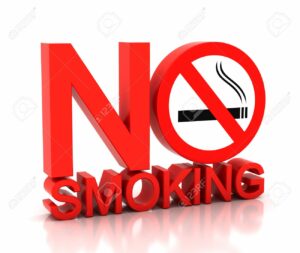 Ask your doctor if you have circulation problems which increase your risk for stroke.